News
News
Call for applications
The International PhD Program
"Science and Health in Football"
awards
1 PhD Position
(two-year doctoral scholarship, net 1.200 Euro per month;
possible extension to a third year)
on the research topic
Comparative Analysis of Medical (and Related) Services
for Football Teams in Different Countries
Research topic and project outline:
The number of staff members behind professional football teams has grown over the last years - at least in the most prominent leagues. Professionalization of teams certainly plays a decisive role here. Accordingly, there are increased requirements in many associations, at national and continental level, both in terms of the number and qualification of employees within a club. In addition, the growing size of the squads certainly plays a role, along with the number of games played, participation in more competitions, etc.
On each economic sector, professionalization is typically accompanied by specialization based on the division of labor, which in turn changes or determines organizational processes such as decision-making structures, communication, knowledge management and management tasks. This can be seen in general within teams behind teams but is also specific to the medical field.
The first step in the project will be to thoroughly describe the situation in several countries. In this context, a comparison to other team sports should definitely be considered. In a second (more analytical) step, the respective actual conditions will have to be considered against the background of organizational aspects such as existing hierarchical structures, work processes and situations, communication channels, etc. In this context, different (medical) systems or "traditions" in the countries involved certainly play a role. Finally, one aim is to derive recommendations specifically for the existing conditions in Germany.
The candidate
This international project (mainly) in elite football will cover several countries for which language knowledge beyond English (preferably Spanish) might be advantageous. Besides other methodology, studies will include questionnaires and interviews. Therefore, skills in qualitative research (e.g., transcription, coding) are beneficial. Knowledge of internationally organized sports and group interactions is a plus for the candidate. Candidates with a master's degree or equivalent (in sport science or related fields) and proven (cross-) competence in these fields are invited to apply.
The PhD program and research framework
The international doctoral program is academically hosted by the Institute of Sports and Preventive Medicine, Saarland University, Saarbrücken (Germany). However, this particular scholarship is funded by the DFL (Deutsche Fußball Liga, German Football League) and conducted in close cooperation between both institutions. Co-supervision will be provided by Dr. phil. Monika Frenger (Institute for Sports Science, Saarland University). Further established scientific co-operations exist with the Centre Hospitalier de Luxembourg, the University of Technology in Sydney, the University of Basle (Switzerland) as well as the universities Groningen (Netherlands), Liverpool (UK) and Stellenbosch (South Africa). The program aims at enhancing the scientific approach to football (i. e. soccer) by investigating health issues as teaching academic skills for interested and qualified students with master's degree or equivalent.
The doctoral researchers will work under the co-supervision of Prof. Dr. med. Tim Meyer (head of the PhD program) and Dr. phil. Monika Frenger. Dr. rer. med. Florian Beaudouin will participate as program coordinator. A multidisciplinary study program, including courses about the theoretical background of the research topic, practical work in performance diagnosis, teaching and transferable skills courses will complement the PhD project.
Saarland University will be the formal research and teaching environment. However, a considerable part of the PhD period will have to be spent in other places where studies may take place. The Institute of Sports and Preventive Medicine is a licensed FIFA (Fédération Internationale de Football Association) Medical Centre of Excellence and a Medical Examination Centre of the German Olympics Sports Federation (DOSB). Due to numerous activities with highly trained football players and the long-term extensive cooperation with the DFL and the DFB (national football association) it offers a profound expertise in football science and medical care for athletes and patients.
Deutsche Fußball Liga (DFL; German Football League)
DFL Deutsche Fußball Liga is responsible for the organisation and marketing of German professional football. It draws up the fixture lists for all 612 Bundesliga and Bundesliga 2 matches each season, but also for the Play-Offs and the Supercup. In addition, DFL handles the organisational side of player transfers. Furthermore, the 36 professional clubs have tasked the DFL with marketing the media rights to these matches nationally and worldwide on the best possible terms.
In the context of the extensive licensing procedure that the clubs themselves have imposed through the League Statutes, the DFL checks that the clubs meet the prerequisites for participation in match operations on the basis of numerous criteria. The economic criteria are of particular importance here. Recently, DFL has founded a working group "Medicine in Professional Football" which will play an advisory role for the PhD project.
How to apply
Candidates are asked to send applications including CV, description of academic performance and relevant experience, translated copies of university certificates (German or English), two letters of recommendation and a letter of motivation no later than December 31st, 2022 to the following e-mail address (preferably as single pdf file): florian.beaudouin@uni-saarland.de. Alternatively, documents can be sent to the following postal address: Dr. Florian Beaudouin, Institute of Sports and Preventive Medicine, Saarland University, PhD program 'Science and Health in Football, Campus Bldg. B 8.2, D-66123 Saarbrücken, Germany.
For detailed information about the application requirements consult www.sportmedizin-saarbruecken.de.
No relationship between Covid vaccination and sudden cardiac death in sport
A new rumor appears on social media claiming a relationship between the covid vaccination and sudden cardiac death in sport. Our medical director Prof. Tim Meyer and Dr. Florian Egger explain in the local news show "Aktuellen Bericht" (15.12.2021) why there is no scientific evidence for thus rumor. For many years Dr. Egger is thoroughly documenting cases of sudden cardiac death in sports and he says the data does not show any increase in cases since the Covid vaccination startet. You can find the report in German via sr.de (starting around 33 minutes). Details regarding the register can be found here.
New PhD Scholarship available: Digital support for return-to-play decisions in football
The International PhD Program "Science and Health in Football" awards 1 PhD Position (two-year doctoral scholarship, net 1.200 Euro per month; possible extension to a third year) on the research topic
Digital support for return-to-play decisions in soccer.
Research topic and project outline:
Digital support for decision-making in elite soccer faces a double challenge: In the lead-up, datadriven algorithms struggle to provide accurate predictions of relevant outcomes due to the mismatch between many influencing factors and the limited number of cases available. A relevant example is the risk of reinjury after return to play. At the same time, in reality the decision-making process itself is still highly subjective and poorly understood. This PhD project aims to tackle both challenges in the context of return-to play-decisions using a transdisciplinary approach. Predicting injuries after return-to-play: In situations without clear precedent humans still outperform machines and further improvements may be realized by aggregating the subjective judgements of several individuals. Therefore, a forecasting tournament for injury risk after returnto- play in professional German soccer is envisaged to be part of the project. Understanding how (successful) return-to-play decisions are made: Understanding the decisionmaking process is essential for providing adequate digital support and possibly recommendations for best practice. While this aspect has so far mainly been addressed from the perspective of sport science and rehabilitation, this project will additionally consider the psychology of human decision making.
The candidate
This transdisciplinary project in elite soccer touches on the fields of sport science, psychology, and data science. Experience with handling databases and mobile frameworks for App development is also required. The candidate should further provide knowledge of the psychological scientific work of Gigerenzer et al. on human decision-making behaviour under uncertainty and accordingly in the absence of information. Candidates with a master degree or equivalent and proven (cross-) competence in these fields are invited to apply.
The doctoral researchers will work under the co-supervision of PD Dr. Anne Hecksteden; Prof. Andreas Keller (co-supervisor), Dr. Michel Brink (University of Groningen), Prof. Dr. med. Tim Meyer (head of the PhD program and cosupervisor) and Dr. Thomas Hauser (Head of Medicine and Science, DFB-Academy). Dr. phil. Sabrina Forster (Skorski) will participate in the supervision as program coordinator. A multidisciplinary study program, including courses about the theoretical background of the research topic, practical work in performance diagnosis, teaching and transferable skills courses will complement the PhD project.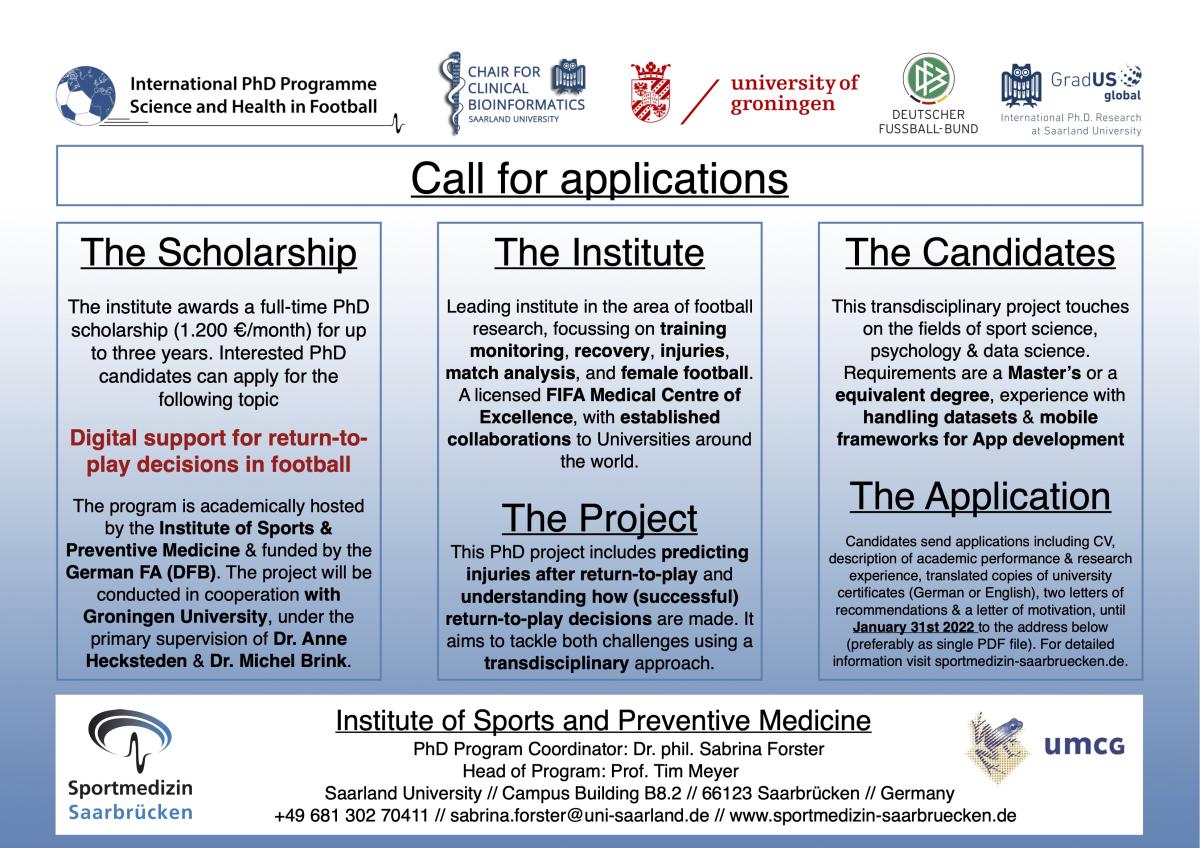 The Accuracy of a Low-Cost GPS System during Football-Specific Movements
New paper from Emiel Schulze is published: A newly designed, low-cost GPS system was found accurate and reliable during football specific movements, making it a useful and affordable tool for sub-elite teams. 
Results of the FIFA Sudden Death Registry in worldwide Football (FIFA-SDR) published.
In cooperation with FIFA, sudden deaths in worldwide soccer have been registered and their causes investigated in a prospective observational study at the Institute of Sports and Preventive Medicine at Saarland University since 2014.  Dr. Florian Egger (specialist in internal medicine) and Prof. Tim Meyer (medical director) have now published the first results in the British Journal of Sports Medicine, 12/2020:
617 cases of professional and recreational soccer players from 67 countries were reported to the FIFA Registry of Deaths in Football (FIFA-SDR) between 2014 and 2018. Of these, 142 players (23 percent) survived after successful resuscitation. The registry included sudden cardiac deaths and cases with survived cardiac arrest, as well as injury-related deaths in soccer. The average age of the affected soccer players was 34 ± 16 years, and 96 percent were men. The main cause in players over 35 years of age was coronary artery disease (76 percent); in players under 35 years of age, it was autopsy-negative sudden unexplained death (22 percent).
Survival rate for resuscitation with and without defibrillator 85 percent of athletes who suffered sudden cardiac arrest and were treated immediately on scene with a lay defibrillator, an automated external defibrillator (AED), survived. In contrast, without treatment with an AED, the survival rate was only 35 percent. "This result shows how important it is to have a defibrillator on site at soccer fields and at all sports venues in general. It is at least as important to train the athletes, coaches and staff in resuscitation measures on a regular basis. In our study, soccer players were the most frequent first responders on site. They are the ones who save lives in the first place," says Dr. Florian Egger.
PhD Programme Science and Health in Football 

- Introduction external PhD candidates Rilind Obertinca and Rina Meha

Injury Prevention in Football (Rilind Obertinca, Sports Physiotherapist, MSc, Kosovo)
Although football is one of the most popular sports worldwide, it carries a risk of injury for players, both at professional and amateur level and in all age-groups. Studies show that the number of injuries tends to increase with age, with most injuries being located in the lower extremities, particularly at the ankle, knee and thigh.
Given the high importance of injury prevention, recently, the focus on developing injury prevention programs has increased significantly. Some of these programs are designed to prevent specific injuries, such as ACL or hamstring injuries, while others are designed to prevent overall injuries in football.
The aim of this doctoral project is to devlope a new injury prevention program and to analyze its effect on prevention of overall injuries in football payers.
Rilind Obertinca holds a Master of Science in Sports Phyiotherapy from Lithuanian Sports University, Lithuania and a Bachelor of Science in Physiotherapy from University of Prishtina, Kosovo.